Nutritional Info
Servings Per Recipe: 8
Amount Per Serving

Calories: 163.5
Total Fat:

4.5 g

Cholesterol:

57.9 mg

Sodium:

292.1 mg

Total Carbs:

10.2 g

Dietary Fiber:

0.3 g

Protein:

20.6 g
Report Inappropriate Recipe
Lowfat Cheeseburger Pie
Submitted by: TXCYNDI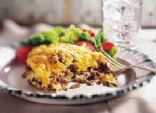 Introduction
A lighter version of an old classic. Made with Heart Smart Bisquick and Ground Turkey instead of beef.
A lighter version of an old classic. Made with Heart Smart Bisquick and Ground Turkey instead of beef.
Ingredients
1lb extra lean ground turkey




1 cup Nonfat Cottage Cheese




1 Egg




1/2 Cup Chopped Onion




1 Clove Garlic (chopped)




3/4 Cup Kraft 2% Shredded Cheddar Cheese




2 Tbsp Worcestershire Sauce




1/4 cup water




3/4 cup of Heart Smart Bisquick (mix only)




4 Slices of Tomato
Directions
Preheat oven to 350
Brown Turkey Onion & Garlic in a pan
While turkey is browning mix Bisquick and water to form a dough. (add water gradually as needed for dough)Roll dough flat enough to cover a pie pan with rolling pin. (may have extra dough).
Place dough in pie pan
Mix Worcestershire Sauce in with turkey mixture
In a separate bowl, mix cottage cheese with egg
Pour turkey mixture into pie pan
Pour Cottage Cheese mixture over turkey
Top with Shredded Cheddar Cheese
Then place Tomato Slices on top and bake at 350 for 30-40 minutes.

Number of Servings: 8

Recipe submitted by SparkPeople user TURNBO2008.


Rate This Recipe
Member Ratings For This Recipe
Yummy! Great "comfort" food!

We ADDED: salt, pepper, & Italian seasonings to the ground meat, and parsley to the cottage cheese mixture.

SUBSTITUTED: ground chicken for turkey, and

Pillsbury reduced-fat cresent rolls (4 triangles/half a tube-put in a square pan) for Bisquick.

OMITTED: tomato

- 1/15/09

Very good. I used a pre-made frozen pie crust ( not too many more calories). I also used fat free ricotta cheese instead of cottage (on hand). It's a keeper, but it needs tabasco or something to spice it up. Next time I think I'll add green chilis and chipotle tabasco sauce

- 2/5/09

This recipe was very good. I would use a low fat pastry recipe that rolls out easier than trying to roll out bisquick which seemed to be harder. You can keep the calories the same if you are careful. Thought MISSABELLA had a great idea by using the Pillsbury Reduced Fat Cresent Rolls as dough.

- 2/1/09

This is GREAT! My husband very rarely likes my cooking but he LOVES this dish! The first time I made it, I forgot to put the tomatoes on top and it was still delicious. When I did it right, though, the cooked tomatoes were scrumptious and kept the cheese from getting too dry or crusty. A+ recipe

- 2/1/09

YUM!!! My husband doesn't eat onion and (thinks) he hates ground turkey, so I made two pies, one ground turkey with onion, and the other with ground beef no onion. Only problem I had was, I added some drained Rotel and it made my crust soggy on bottom. But it was still good!! Family loved it!

- 2/2/09

Next time I make this, I will add more seasoning- like a taco seasoning to the turkey- and serve with sliced avacados and a wedge of lettuce. We also added tabasco sauce to give it a bit more punch. With the changes, I will make this again.

- 2/3/09

Reply from

TXCYNDI

(7/8/09)

I usually spice it up too but wasn't sure what all I should put on this recipe builder.