Nutritional Info
Servings Per Recipe: 4
Amount Per Serving
Calories:

75.8
Total Fat:

0.8 g

Cholesterol:

0.0 mg

Sodium:

20.0 mg

Total Carbs:

7.8 g

Dietary Fiber:

1.2 g

Protein:

8.4 g
Report Inappropriate Recipe
Protein Pancakes (non dairy)
Submitted by: FITGIRL15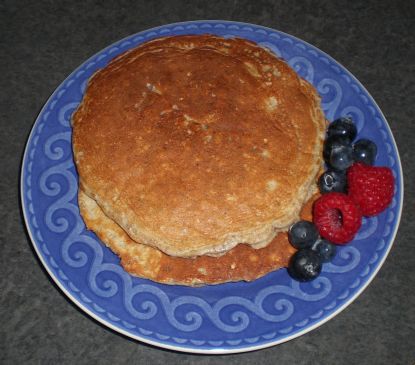 Introduction
These taste quite Good considering there is only 8 g of carbs per pancake!

(A great compliment to a competition diet because they are high in protein and low in carbs!)
These taste quite Good considering there is only 8 g of carbs per pancake!

(A great compliment to a competition diet because they are high in protein and low in carbs!)
Ingredients
1/2 C Quaker Oats (dry weight)




1/2 cup hot water (to cook oats)




1 scoop low carb protein powder (isolate)




1/4 C egg whites




1/4 tsp. ground cinnamon (to taste)




optional: almond extract





optional toppings: Almond butter, blueberries.
Directions
Mix oats with hot water. Sitr and let stand for a couple minutes till fluffy. Mix protein powder with the eggs and then mix this with the oats. Stir in the cinnamon and almond extract and fry on a hot gridle sprayed with PAM cooking spray.

Makes 4 pancakes.

(optional: Top with a thin layer of organic PB or almond butter, or eat with blue and raspberries!)


Number of Servings: 4

Recipe submitted by SparkPeople user FITGIRL15.


Great Stories from around the Web
Rate This Recipe
Member Ratings For This Recipe
OMG - These were AWESOME! I used chocolate protein powder and used a little bit of vanilla instead of almond extract, and these were AMAZING. It was like I was cheating!!! It was hard for me to not eat the whole batch! I ate two, then an hour later I ate a third! What an excellent start to my day!

- 2/27/09

These were actually DELICIOUS! I have tried to make a variety of diet-version favourites, and thoroughly despised them all, thinking "who are they kidding, calling this a substitute!!!" but these were amazing. I recommend making them big like crepes, and eat with fresh fruit! also - blenderize mix!

- 6/16/09

Ok. Maybe it was the vanilla protein powder I used. That is all I could taste. If I make again, I will try with less protein powder and blend everything first.

- 8/21/09

Reply from

FITGIRL15

(8/21/09)

Mine were't the greatest the first attempt either... I've got it down to a science now though! LOL I have these for breakfast every morning!

Try, Try again! :) Maybe try adding some cocoa powder or some artifical flavoring... Or even some blueberries! So many ways to spice it up! ;)

These were ok - I made them exactly as recipe calls for and they were very dense and didn't taste much like pancakes. The stuff I put on them helped but alone they were pretty bland.

- 10/21/08

Reply from

FITGIRL15

(10/21/08)

If they were really dense, you need to add more warm water to the oats when you make them (this thins out the batter a lot!)
The taste of the batter depends on the flavor of protein powder you use.