Nutritional Info
Servings Per Recipe: 8
Amount Per Serving

Calories: 196.3
Total Fat:

13.6 g

Cholesterol:

117.8 mg

Sodium:

350.1 mg

Total Carbs:

11.8 g

Dietary Fiber:

1.2 g

Protein:

7.3 g
Report Inappropriate Recipe
Feta Mushroom Spinach Quiche
Submitted by: AURICAL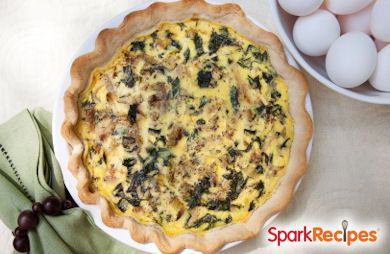 Introduction
Delicious and Healthful!!
Delicious and Healthful!!
Ingredients
-4 lg eggs




-1/4 C. Reduced Fat Sour Cream




-1/4 C. Skim Milk




-2 C. Fresh Mushrooms, Sliced




-2 tsp. Garlic, minced




-4 tsp. Olive oil




-1pkg Spinach (10oz), thawed and drained




-1/2 C. Feta cheese, finely crumbled




-1 Tbsp Parm Cheese, grated




-1 Prepared 9" pie crust
Directions
1. Preheat oven to 375
2. Thaw spinach and pie crust (check directions on package of pie crust - some can be used frozen)
3. Sautee garlic and mushrooms in olive oil (If using fresh spinach, throw that in as well)
4. whisk sour cream, milk, and eggs until smooth (works best if sour cream and milk are mixed first and then eggs are added)
5. Add spinach, mushrooms, garlic, and feta cheese to the egg mixture and stir briefly
6. Pour into pie crust
7. Sprinkle parm evenly over the top
8. Bake at 375 for 25-30 mins - quiche is done when knife inserted in the center comes out clean.

Serves 6-8 (calorie info calculated for 8 servings)

To reduce the calories/fat even more:
- use reduced fat feta cheese
- Don't use parm at all
- Don't use a pie crust, just spray the pie dish with a nonstick cooking spray.

Enjoy!

*****Update*****

Made this recipe again last night and I made some slight changes/improvements that others might enjoy:

-Pre-baked the crust for ~7-10 mins at 375
-As suggested by some I added a little salt/pepper to egg mixture
-Sauteed scallions with the mushrooms
-Added ~1 c. of imitation crab/lobster meat chopped into relatively small pieces

These alterations did a lot to improve the texture of the crust and overall flavor of the quiche only increased the calories by 15-20 cals / slice


Number of Servings: 8

Recipe submitted by SparkPeople user AURICAL.


Great Stories from around the Web
Rate This Recipe
Member Ratings For This Recipe
Marvelous!! Thanks for this! No crust (cooking spray), no parmesan . Gr yogurt for sour cream & plain soy milk for milk. Used a med onion & lg clove of garlic. Bit of salt and freshly-ground black pepper just before eating. MARVELOUS and twice as big a serving size only 252 cal.

- 4/6/13

I pre-baked the thawed pie crust for 10 min. I also added 1 cup of imitation crab meat. I thought I drained the thawed spinach enough; I squeezed the spinach against the strainer. However, the excess water made the quiche a little runny. I would use fresh spinach next time. Delicious flavor!

- 12/5/09