Nutritional Info
Servings Per Recipe: 12
Amount Per Serving
Calories:

253.3
Total Fat:

13.2 g

Cholesterol:

52.7 mg

Sodium:

217.4 mg

Total Carbs:

14.8 g

Dietary Fiber:

0.8 g

Protein:

17.6 g
Report Inappropriate Recipe
Meatloaf Cupcakes with Mashed Potato Frosting
Submitted by: MRSDUDLEY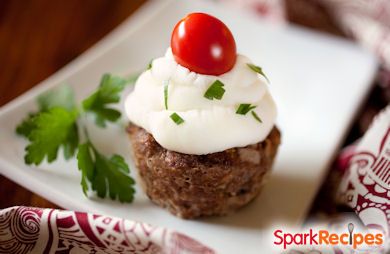 Introduction
This fun spin on a classic supper is easy to make and kid-friendly.
This fun spin on a classic supper is easy to make and kid-friendly.
Ingredients
Meatloaf Cupcakes




2 pounds extra lean (96%) ground beef




1 cup panko (Japanese breadcrumbs)




2 egg whites




1 teaspoon Worcestershire sauce




1/2 medium onion, finely chopped (about 1/2 cup)




3/4 teaspoon McCormick 25% less sodium steak seasoning



3 cups mashed potatoes (We used this recipe.)



2 tablespoons chopped flat-leaf parsley




1/4 cup reduced-sodium ketchup




12 grape tomatoes



Tips
Feel free to skip the parsley and tomato if your kids are picky. You could also top with gravy!
If you don't eat red meat, use ground turkey.
SparkPeople Sponsored Video
Directions
SERVES 12 ~ 1 meatloaf cupcake per person
Preheat the oven to 375 degrees F.
Combine all the meatloaf ingredients in a large bowl. Use a half-cup measure to scoop the meat into muffin tins coated with cooking spray.
Bake for 20 minutes, or until the meat reaches an internal temperature of 160 degrees F.
While the meatloaves are cooking, prepare your mashed potatoes.
Transfer the mashed potatoes to a large resealable bag. Snip off one corner of the bag.
To serve, place one meatloaf on a plate, then pipe the mashed potatoes (about 1/4 cup) on top.
Sprinkle with parsley (optional), drizzle with ketchup, and top each with a grape tomato.


Great Stories from around the Web
Rate This Recipe
Member Ratings For This Recipe