Nutritional Info
Amount Per Serving

Calories: 298.1
Total Fat:

7.4 g

Cholesterol:

44.8 mg

Sodium:

498.0 mg

Total Carbs:

41.5 g

Dietary Fiber:

5.4 g

Protein:

18.6 g
Report Inappropriate Recipe
Apple and Pork Stir-fry with Ginger
This is a SparkPeople.com Recipe (what's this)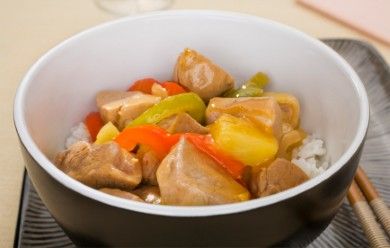 Introduction
Featured in the revised edition of The New American Plate.

Printed with permission from the American Institute for Cancer Research
Featured in the revised edition of The New American Plate.

Printed with permission from the American Institute for Cancer Research
Ingredients
2 Tbsp. peach jam, preferably fruit sweetened

2 Tbsp. reduced sodium soy sauce

2 Tbsp. water

1/2 tsp. cornstarch

1 1/2 tsp. dark toasted sesame oil

1 Tbsp. finely minced fresh ginger root

1/2 pound (8 ounces) pork tenderloin, cut into thin strips

1 1/2 tsp. canola oil

1 cup chopped red bell pepper

1 cup chopped green bell pepper

1 cup chopped yellow bell pepper

1 can (8 ounces) sliced water chestnuts, drained

2 firm apples, such as Fuji or Gala, cut into one-inch pieces

1/2 cup scallions, thinly sliced

Freshly ground black pepper, to taste
Directions
1. In small bowl, combine jam, soy sauce, water and cornstarch. Set aside.

2. In large non-stick skillet, heat sesame oil over medium high heat. Add pork and ginger and stir-fry until pork is browned and just cooked through, about 3-5 minutes.

3. Transfer pork and ginger to bowl with slotted spoon. Add canola oil to skillet. Stir-fry peppers, water chestnuts, and apples until peppers are crisp tender, about 3 minutes.

4. Add pork back to skillet along with scallions. Stir-fry 30 seconds. Add jam mixture. Continue to stir-fry 30 seconds to one minute, or until sauce thickens. Season to taste with black pepper.

Makes 4 servings (2 oz cooked pork per serving.)

The American Institute for Cancer Research (AICR) is the cancer charity that fosters research on diet and cancer and educates the public about the results.


Rate This Recipe
Member Ratings For This Recipe
For those who used powdered ginger instead of fresh -- fresh ginger tastes MUCH different than powdered ginger. Also, I am going to marinate the meat with minced or sliced fresh ginger, scallions, soy sauce, fresh cracked black pepper, and sesame oil before stir frying for added flavor.

- 8/7/09

For those who have a problem with mincing ginger (or garlic, for that matter) just use a hand held cheese grater. You don' t even have to peel the ginger. Just wash it. For me, I would slice the peppers similar to the pork, in keeping with Chinese visual perfection.

- 9/14/09